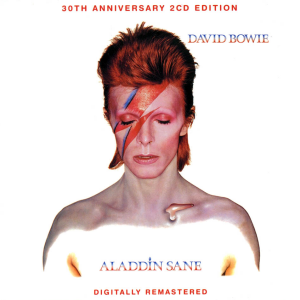 This album, which followed Ziggy Stardust and that album's supporting tour, is in many ways better than its predecessor. For one thing, the band is tighter: listen to the rhythm section on "Panic In Detroit" or the shambolic piano on the title track, and tell me I'm wrong. For another, the songwriting is less self-conscious and less tethered to the constraints of a 'concept album', making the whole experience a little freer.
The album's not perfect, though. Side one is stronger than side two, making the album a bit of a slog towards the end. A lackluster cover of Rolling Stones' "Let's Spend The Night Together" does side two no favors.
The 30th anniversary edition comes with a 36-page booklet with expanded liner notes and period photographs. It also comes with a bonus disc containing single versions of "The Jean Genie" and "Time", two out-takes (the sax version of "John, I'm Only Dancing", which became a standalone single, and Bowie's own unfortunate recording of the song he gave to Mott The Hoople, "All The Young Dudes", a misstep which is the low point of the entire two-disc set), and a smattering of live tracks from the Ziggy tour, the best of which is a re-invented "Changes", but "The Supermen" and an acoustic version of "Drive-In Saturday" are not to be missed either.